While staying in Tezh Ler Resort you can explore the North of Armenia by visiting nearby places of attraction, in particular in the directions of Alaverdi and Dilijan. 
Haghpat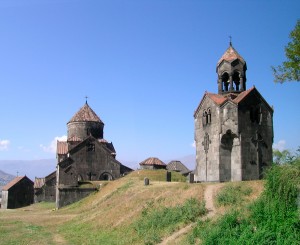 Perched atop the rim of the gorge, Haghpat monastery is one of Armenia's most beautiful monasteries founded, like Sanahin, by Queen Khosrovanush around 976. Haghpat was a major literary center in the Middle Ages. The complex (10th-13th cc.) consists of several picturesque churches (St. Nshan; St. Grigor), chapels and mausoleums, marvelous bell tower, a library, etc. St. Nshan Church was finished by Smbat Bagratuni and his brother Gurgen and served as a religious headquarters for the Kyurikians.
Sanahin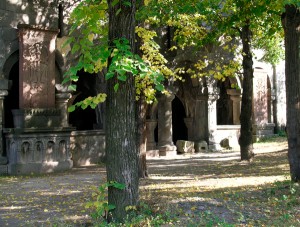 Another important literary and educational center of the medieval times is the richly decorated monastic complex of Sanahin. It was founded in 966 by Queen Khosrovanush, wife of King Ashot III Bagratuni, via building the Amenaprkich Church beside St. Astvatsatsin, a pre-existing 10th century church. Sanahin was the birthplace of Anastas Mikoyan (1895-1978), Chairman of the Presidium of the Supreme Soviet, perhaps the most successful Armenian ever to settle in Soviet Moscow. His brother Artyom (1905-1970) was the famous aeronautical engineer, co-designer of the MIG fighter series. The house-museum of the Mikoyan brothers is downhill from the monastery.
Odzun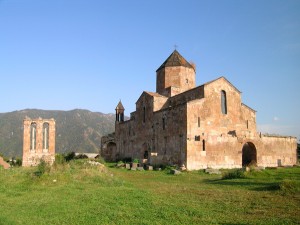 On a sizable plateau, some 100 m from the main village road is Odzun with its famous church dating back to the first half of the 7th century. It was built by Katholikos Hovhan of Odzun. Beside the church there is a unique funerary monument with two sculpted pillars depicting biblical scenes and the Christianization of Armenia. Odzun is known for its ruined 7th century Tsiranavor basilica and numerous beautiful khachkars as well. Another famous monastery, Horomayr is situated on the edge and partly inside the gorge.
Haghartsin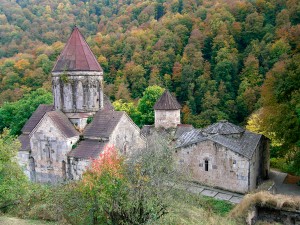 The Haghartsin Monastery Complex (10th-13th cc.) is situated in Tavush Region, 18 km north of Dilijan (in the historical province of Dzorapor). The complex consists of buildings originating from different centuries, including 3 churches, 2 vestibules (one of them ruined), prayer halls, cross-stones, etc. The oldest among the churches is St. Grikor (around 10th c.).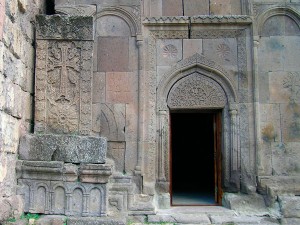 Goshavank
One of the most important religious, educational and cultural centers of the 12th-13th cc., the Goshavank Monastery Complex is situated in the village of Gosh of Tavush Region. It was founded in 1188 by Mkhitar Gosh (a statesman, outstanding scientist and writer, an author of numerous fables and parables and the first criminal code) in place of an older monastery, Getik destroyed by an earthquake. It was known as Nor Getik, but was later renamed into Goshavank in honor of Gosh. Among the memorial cross-stones (khachkars), there are outstanding, highly artistic ones, in particular those created by the master carver Poghos.