Tezh Ler Resort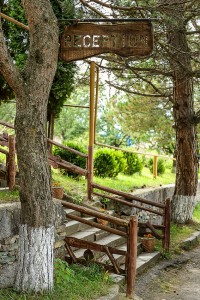 Tezh Ler Resort consists of 4 two-storey buildings (including an administration building). The number of rooms is 25, which includes Single, Double, Deluxe, Suit, Family rooms, and a private cottage as well. Irrespective of their class, all rooms are beautifully designed and have a separate bathroom, running hot and cold water, refrigerator and TV.
The resort also has 2 conference halls foreseen for 50 and 150 persons.
Meals
Tezh Ler Resort is open towards each of the guests with special hospitality. You can enjoy the national and other countries' dishes in the two beautifully designed halls. There is also an open-air bar-café.
Entertainment
The guests, resting at this resort, have an opportunity to play table tennis, billiards, volleyball, and swim in the large open-air swimming pool, as well as attend the library, which is being periodically completed.
Besides, per your request, excursions and expeditions to the nearly located sights, as well as riding. can be organized. There are swings, lodges placed in the garden for the children, as well as a small fountain, an artificial well and a cart with haycock. All this has been designed to complete the whole picture.